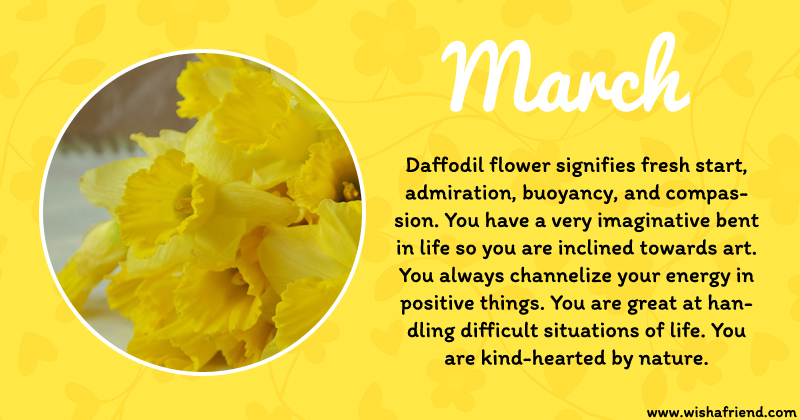 More about Daffodil
The birth flower for March is the Daffodil. The Daffodil originated in the western European countries like Spain, Portugal, Germany, England, and Wales.
Origin of Name:
The scientific name for Daffodil is 'Narcissus pseudonarcissus'. The other common names are 'wild Daffodil' and 'Lent Lily'. The Latin name for the Daffodil is 'Narcissus', which is also referred to as 'Jonquils' in North America.
Symbolic Meaning:
The Daffodil, since it marks the commencement of spring season every year, is considered as a sign for a new and fresh start. It also stands for true respect and reverence. It carries a meaning of trust and renewal for many people. It also signifies affirmative attitude, warmth, and compassion.
Personality Traits:
The people with Daffodil birth flower are believed to be genuine peace-lovers. They are usually creative and have a good sense of design too. The March born people are kind and compassionate towards the less privileged. These considerate and affectionate people always try hard to resolve any kind of misunderstandings.
Significance During Events & Holidays:
The Daffodil is often worn on special holidays like Saint David's day (March 1) and Saint Patrick's day (March 17). The March birth flower is also presented to celebrate the birth of a new baby.
Interesting facts:
- National flower of Wales.
- Country flower of Gloucestershire.
- It is a venomous flower.