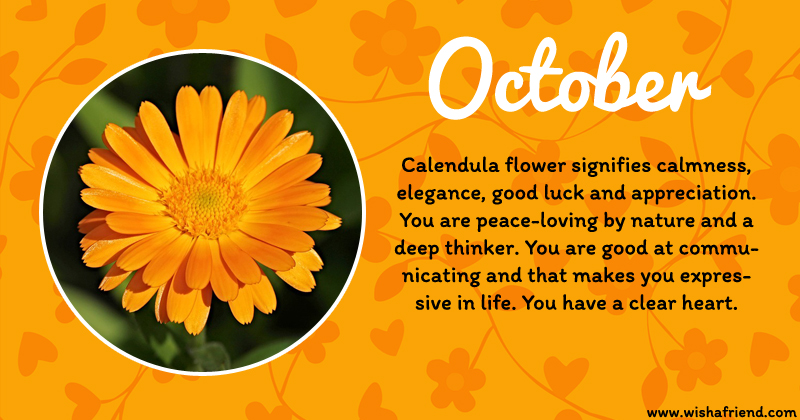 More about Calendula
The birth flower for October is the Calendula (also called as Marigold). It is extensively found in many parts of Europe, United States, and western Asia. There are about 15-20 species of the Calendula.
Origin of Name:
The name Calendula, has Latin roots. The Latin word 'Kalendae' means 'the first day of the month' and because the flower blooms at the start of most months, the name Calendula is assigned to it. The most common name for the Calendula is 'Pot Marigold', which refers to 'Virgin Mary'. This sun-like flower also has many different local names like Holli Gold, Mary Bud, Gold Blooms and Bull's eye.
Symbolic Meaning:
The Calendula has an interesting history and the meaning of the October flower has evolved with time. It mainly signifies fortuity, attraction, and calmness. The October flower Marigold also signifies compassion and appreciation.
Personality Traits:
The people with October birth flower Calendula are believed to be religious by nature. They possess good talking skills and hence are good leaders. October born people are generally susceptible and passive by nature. They enjoy harmony and comfort in life.
Significance During Events & Holidays:
Calendula is an ancient flower and is often worn on many important occasions. The Marigold is often used to celebrate holidays like Halloween (October 31st) and Columbus Day (2nd Monday in October).
Interesting facts:
- The Marigold flower petals are edible.
- Calendula does not smell sweet, like most flowers.
- Calendula is used in salads to add color.